---
---
Meet Reports
---
2017 Reports

Summer Lake District Meet, George Starkey Hut, August
Hotel Alpine Meet, Selva Gardena, June/July
Scotland Meet, Skye and Kintail, May
Derbyshire Meet, Hurdlow, May
Isle of Man Meet, Douglas, April
New Members Meet, George Starkey Hut, April
Blacklunans Meet, Scotland, March
Annual Dinner Meet, Lake District, February

2016 Reports

Brecon Beacons Meet, Wales, October
Beer Meet, East Devon, September
Tatra Trek, Poland, September
Alpine Hotel Meet, Cogne, Italy, July
N Wales Meet, June
Skye Meet, May
Derbyshire Meet, Mayday Holiday weekend
New Members Meet, Patterdale, April
Fassfern Meet, Scotland, March
Annual Dinner Meet, Lake District, February

---
Archive
---
Photo Archive 2001 to 2015
Meet reports 2001 to 2015.
We have started a pdf archive of books and Journals that give an insight into the Association in its earlier days.
To start the archive off we have a copy of the "Inauguration of the Cabane Britannia, 1912.
There are also Journals from 1975 to 2008.

---
Please let Mike Goodyer know if you change your address or e mail to ensure that you still receive Newsletters.
Last Updated: 31 August 2017


A mountaineering club with a strong interest in UK and alpine activities
---
Upcoming Meets
ABMSAC/AC Hut Maintenance Meet at the George Starkey Hut 1-3 September. This meet organised by David Dunk and Marian Parsons.
Bednights will be free to those willing to put in a day's work. There is no pressure to spend the whole weekend working: one day work and one day play is fine!
A free meal will be provided on the Saturday night. Mike Parsons has his 75th birthday on 1st September and wants to celebrate a bit, so there will be some free wine/beer too!
A list of jobs is being prepared and tools purchased. Jobs will be allocated according to what people feel they can do. H&S is taken into consideration, so no high ladder or roof work!
Please book with Marian Parsons.
The autumn Alpine Trek will be on 9 to 16 September in the Pirin Mountains, Bulgaria - based in Bansko. Judy Renshaw is the meet organiser. Pirin Adventures will do a tailor made package, including accommodation and transport etc. We intend to organise day hikes, some overnights in huts.
---
Alpine Meets - advance notice for 2018
---
Advance notice of next years Hotel based alpine meet - We will be staying in Mayrhofen in the Zillertal, from Friday 29 June to Friday 6 July, in the 4* Hotel Kramerwirt. A fact sheet is now available.
---
Latest News 31 August
---
Report and photos of the summer Meet based in George Starkey Hut are now available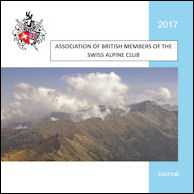 The eagerly awaited Journal has been posted to members. Editor.
Report and photos of the summer Hotel Alpine Meet in Selva Gardena are now available
A new edition of WALKING in the HAUTE SAVOIE: SOUTH, revised and updated by ABMSAC members Alan Norton and Pamela Harris, has just been published by Cicerone Press. The book is available from Cicerone Press for £14.95, with a 25% discount until 30 June.
The companion guide Walking in the Haute Savoie: North has been similarly revised and will be published on 15th November.
The next winter season London social meets to be held in the Civil Service Club, Great Scotland Yard, SW1A 2HJ will be on Tuesday 3 October, Monday 6 November and Monday 4 December in 2017. In 2018 the meets will be on Tuesday 2 January, Tuesday 6 February and Tuesday 6 March. Please make a note of the dates in your diary. More details: London lectures

New guide book "A Week in the Parc Ela" has been published by member Geoffrey Pocock.
It describes a week in the largest Swiss park: two day walks from Bivio, the pearl of the Graubunden, and a five day tour of the Park making use of hotels and huts. This is a region largely unspoilt by winter sports with a profusion of flowers and a wide variety of fauna. It is a walker's paradise.
This booklet has a concise description of all seven days' walking with 10 maps and 10 illustrations.
It is available from Amazon for £5.22 plus P&P.
---
Club information
---
How to join us
The web site for the Swiss Alpine Club has links into pages for the separate Sections.
A source for all types of climbing information, access and insurance in the UK is the BMC

---
George Starkey Hut
---
The hut is in Patterdale near Ullswater, at the heart of the Lake Districtís Eastern Fells. It is ideally placed for the High Street range to the East, whilst from the front there is a splendid view of Helvellyn and its neighbouring fells: to reach them, all you have to do is put on your boots and walk from the hut.
From 1 July we have a new hut partner, the Alpine Club. We have taken this opportunity to change the name of the Limited Company that runs the hut on behalf of the two clubs. The new name is George Starkey Hut Limited.
There are rock climbing and mountain biking opportunities from the front door, canoeing and sailing on Ullswater and pony trekking locally.
The hut has up to 20 places that are bookable by clubs and groups and a members room with eight places.
Please check hut availability by reviewing calendar for 2017 or 2018 before booking.
Please note that on special occasions the members room is not available, this for example will cover when school/youth groups have booked. These times are shown on the calendar.
For Hut bookings contact Marian Parsons
---