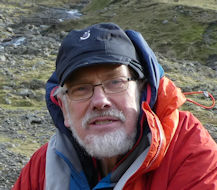 Mike has been Chair of the GSHL Directors since the new arrangement with the Alpine Club in 2016 and will serve until mid 2019.
Mike comes from an outdoor background and is well known both for his business and sporting interests. From 1960-1997 he was the Chairman, MD and co-owner of Karrimor International Ltd. Mike was responsible for a significant amount of innovation in the outdoor industry including the Karrimat in 1967, the world's first integrated hip-belt soft packs in 1974, KS-100e, the world leading pack fabric standard in 1976, KSB's, the first fabric boot in 1981 and new lightweight equipment brand OMM.
He is a part time university lecturer - Innovator in Residence at LUMS (Lancaster University Management School). In addition, he was co-author of "Invisible on Everest, innovation and the gear makers." The only book on the history of innovation of outdoor clothing and climbing gear.
Mike is currently working a new start up called Outdoor Gear Coach, writing and editing ebooks.
Mike was born and bred in a bike store, started life as a road biker, then later become involved in sking, alpine/Nordic/telemark, fell running, rock climbing, mountaineering, mountain biking, paddle (sea kayak) and of late, some horse riding with Marian.
Mike has climbed in all seven continents: Greenland, Spitzbergen, Lapland, Patagonia, Antarctica, India/Ladakh, Bhutan, Kyrgyzstan, Pakistan, New Zealand, USA and the European Alps(over 15 seasons).
His trips have led to several first ascents on 20 virgin summits in Greenland and Khirgistan; dog sled journeys in Spitzbergen and Lapland; sea kayak trips around the western Isles - Mull, Scarba, Jura, etc. and horse riding trips in Kyrgyzstan, Pyrenees, Gredos mountains, Poland South Wales and Scotland. Mike has also completed 40 + 2 day mountain marathons KIMM/OMM's
As well as being a member of the ABMSAC Mike is a member of the Alpine Club and an individual member of the BMC.